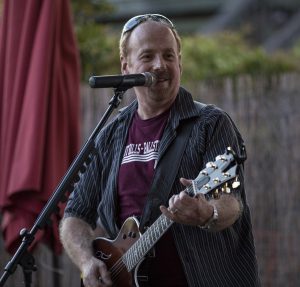 As a solo performer, John Chevalier has been on some type of stage for over 35 years and has performed all over North America. Having played guitar since age seven, he cannot remember a time when he was not playing music. He began playing in local bands as a teenager and has been playing both as a solo artist and in groups ever since. 
His musical focus reflects the sound of his youth, classic rock (but before it was "classic") with some modern country, blues, and even some 50's and 60's hits thrown in.  John covers artist such as Bob Seger, John Mellencamp, Pink Floyd, Jason Mraz, The Beatles, The Grateful Dead, and more.
Whether you're thinking about coming out to a show, or looking for a solo artist for your club, you will not be disappointed with John's performance.  He loves to entertain and is sure to please any crowd.